Find the Lady Falcon truck at Alamo Square!
Thursdays | 9am - 3pm
Fridays   | 9am-4pm
Saturdays & Sundays | 10am-4pm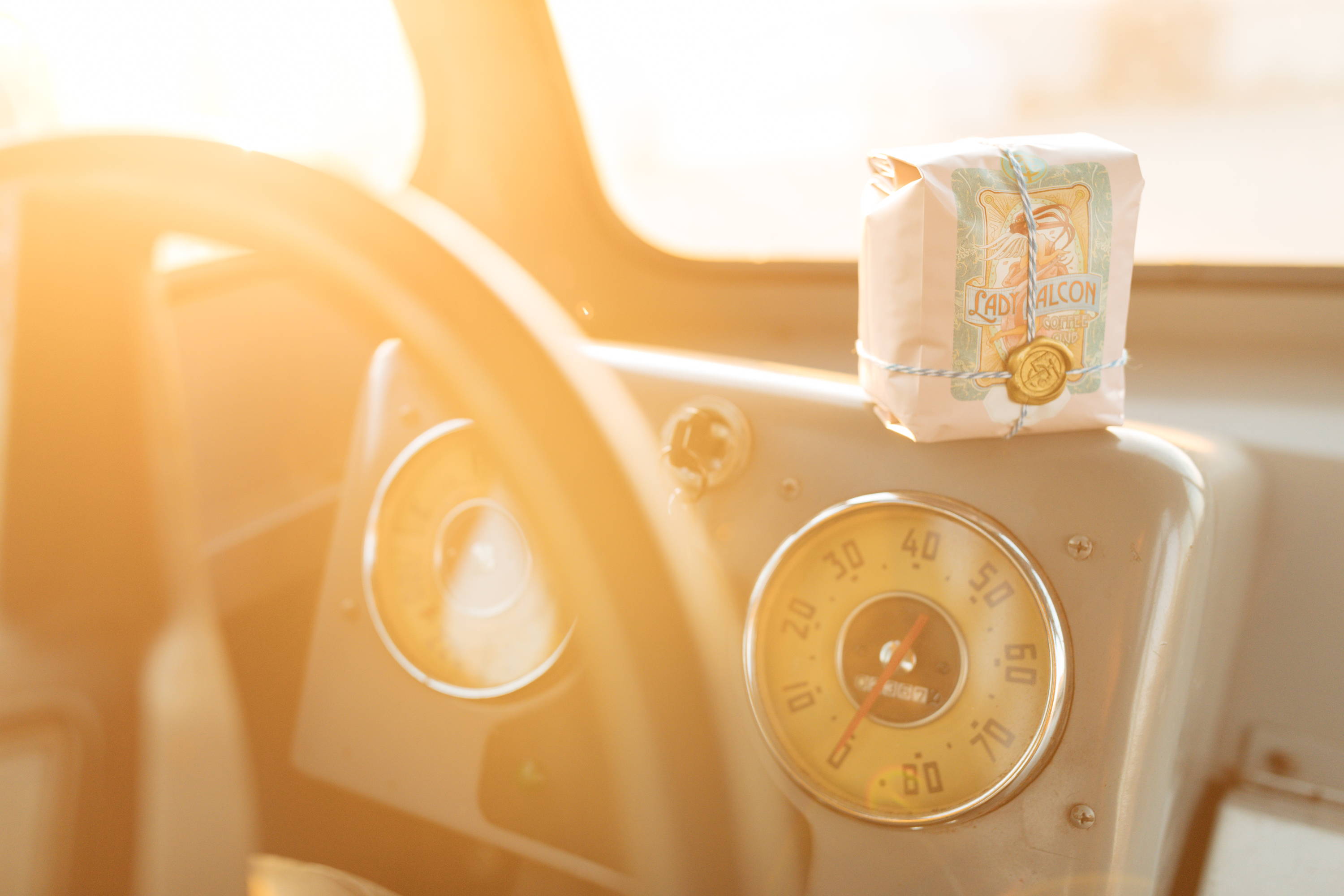 We're known around San Francisco for our beautiful vintage coffee truck, a 1948 GMC bread truck that we worked hard to breathe new life into.

We chose a vehicle to tell a story about our neighborhood and about our beloved city of San Francisco while sharing our craft roasted coffee. Our neighborhood, Ocean Beach, has a rich history of artists, makers, writers, poets and freethinkers as exemplified by the Falcon Ladies Bicycling Club which we modeled ourselves after.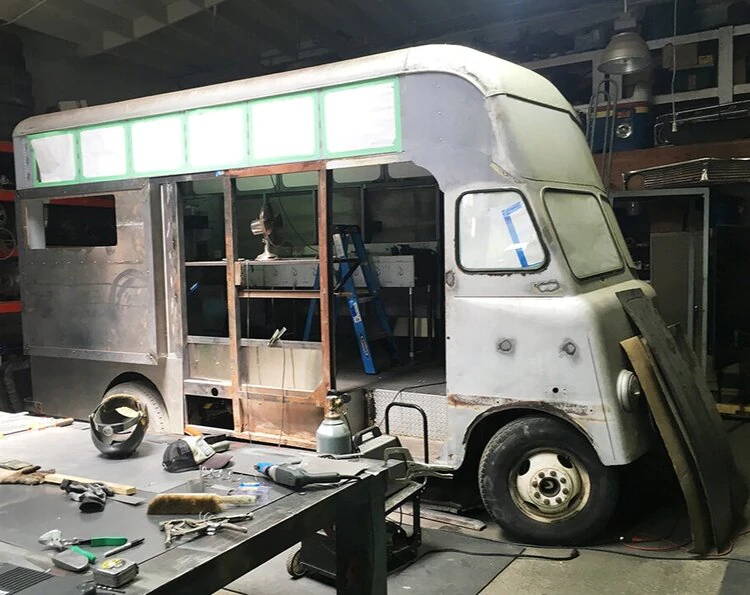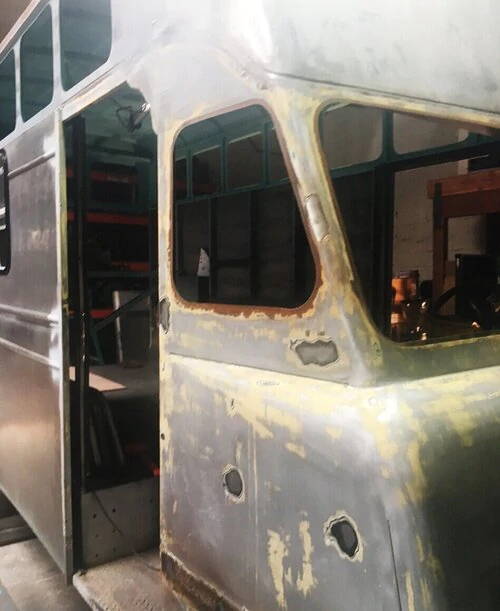 While visiting a friend in the East Bay, we noticed a wheel-less, broken-down 1948 GMC bread truck in the parking lot: Its owner had parked it there until he could get it up and running as a coffee truck. When that owner decided to move out of state he listed the truck on Craigslist. We made a call and bought her on the spot.

Over the next two years, we worked hard to make her what she is today and now she is at the heart of our business.

This is the story of that vehicle & our dedication to the dream & the creativity that got us started on that path.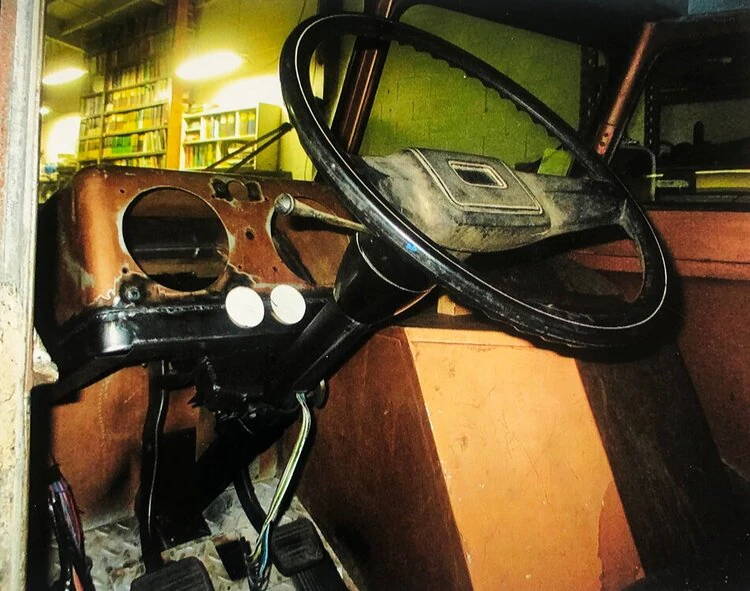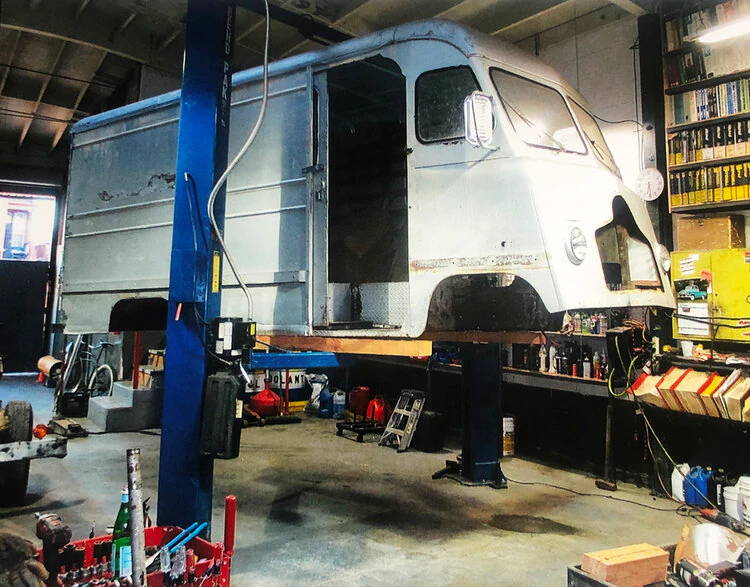 The transformation of the broken down bread van into a gorgeous coffee truck was not as easy, laid-back, nor quick, but it was completely worth the wait. Chris and Mike at Hellcam completed the truck in two stages. From our purchase of the vehicle to serving our first cup of Lady Falcon coffee from our truck took about two years.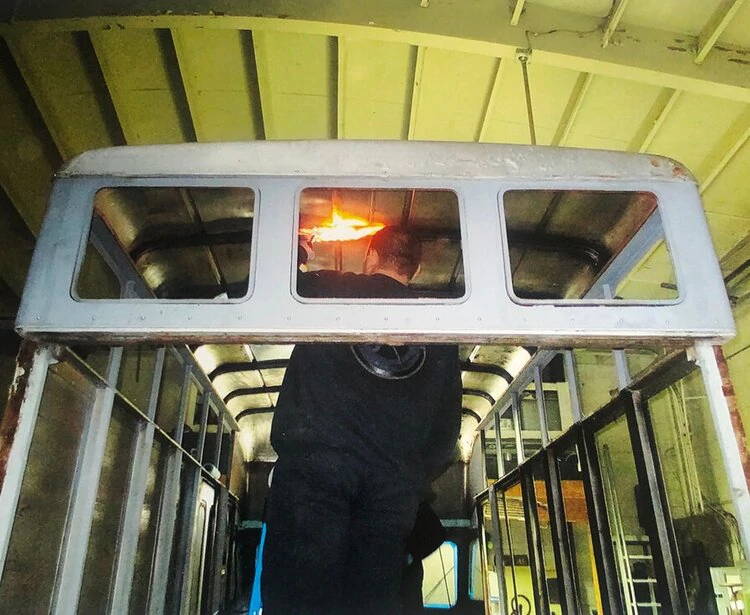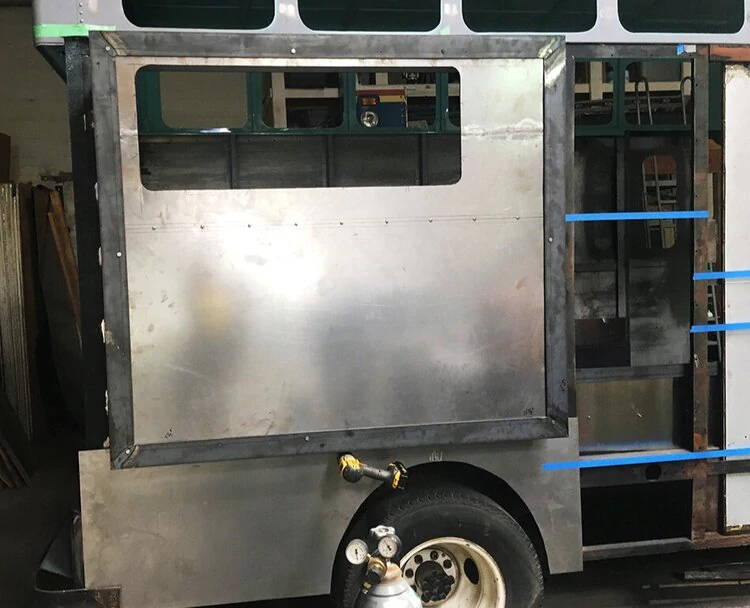 We worked with a team of artists and mechanics at Helcam Vintage Motors, a restoration and modification shop for vintage cars in West Oakland, to renovate and restore the truck, turning it into a highly Instagrammable mobile coffee operation.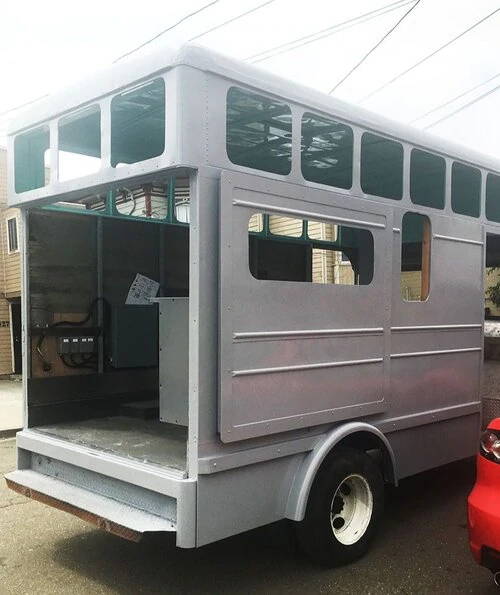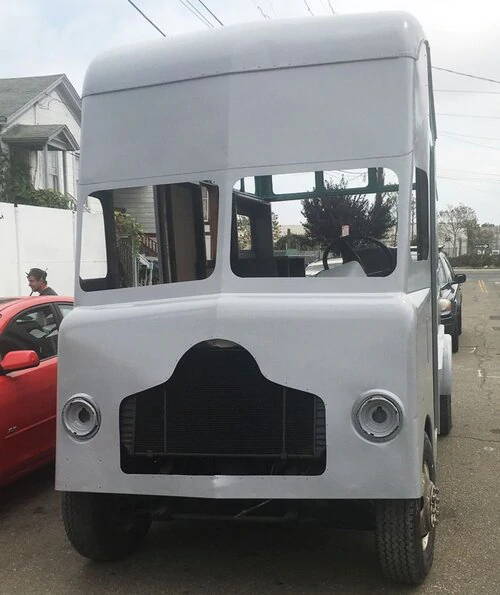 The first stage of the buildout took six months. Major events slowed down the process, like when the refrigerators we ordered were the wrong size and wouldn't fit in the truck. We had to special order another set of refrigerators, which meant a lot of waiting around.

We also decided we needed more height, light and air, so we sawed off the top of the truck, created metal ribs and installed vintage VW camper bus windows all around the top before re-welding it together. It was a huge decision, but in the end our lifted vintage windows, which bring in tons of natural light and making being in the truck much more enjoyable, are one of our favorite upgrades.

Necessity can sometimes be the mother of invention, turning even the trickiest of challenges into one of the neatest upgrades we did. When we finally installed the refrigerators, we realized we didn't have the full amount of space required by the state of California for a coffee truck (we were short six inches).
Chris Carney, who was a magician in an earlier career, started thinking about how we could create space out of nothing. This is how our side crank was born: It expands the truck when it's open for business & then contracts it when it's on the move, gives our baristas the room they need to work their magic, AND creates the perfect pop-out to show off our super cute teal espresso machine.

We brought in Jesse (aka Jesse Roadkill) to use her incredible talents as a painter and artist to give some life to our logo on the outside of our truck. Our iconic Lady Falcon is designed in the style of 1890-1910 Art Nouveau posters and her hand painted rendition of our logo still makes us happy to see gracing the side of our truck.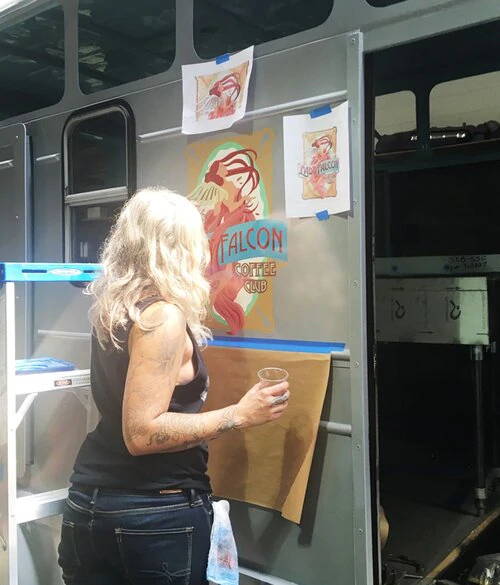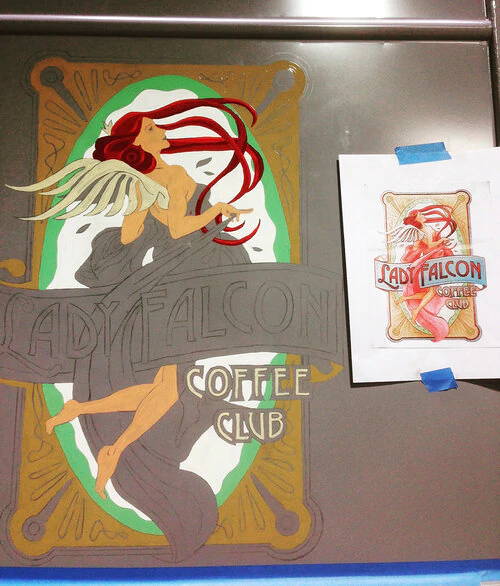 We installed our gorgeous teal espresso machine & opened up to share our delicious at the top of the hill in Alamo Square!

With tons of vintage character, a lot of love and elbow grease, & a great story, we can't help but think of her as her own kind of Painted Lady: We fit right in with the story of San Francisco and the magic of the neighborhoods we call home.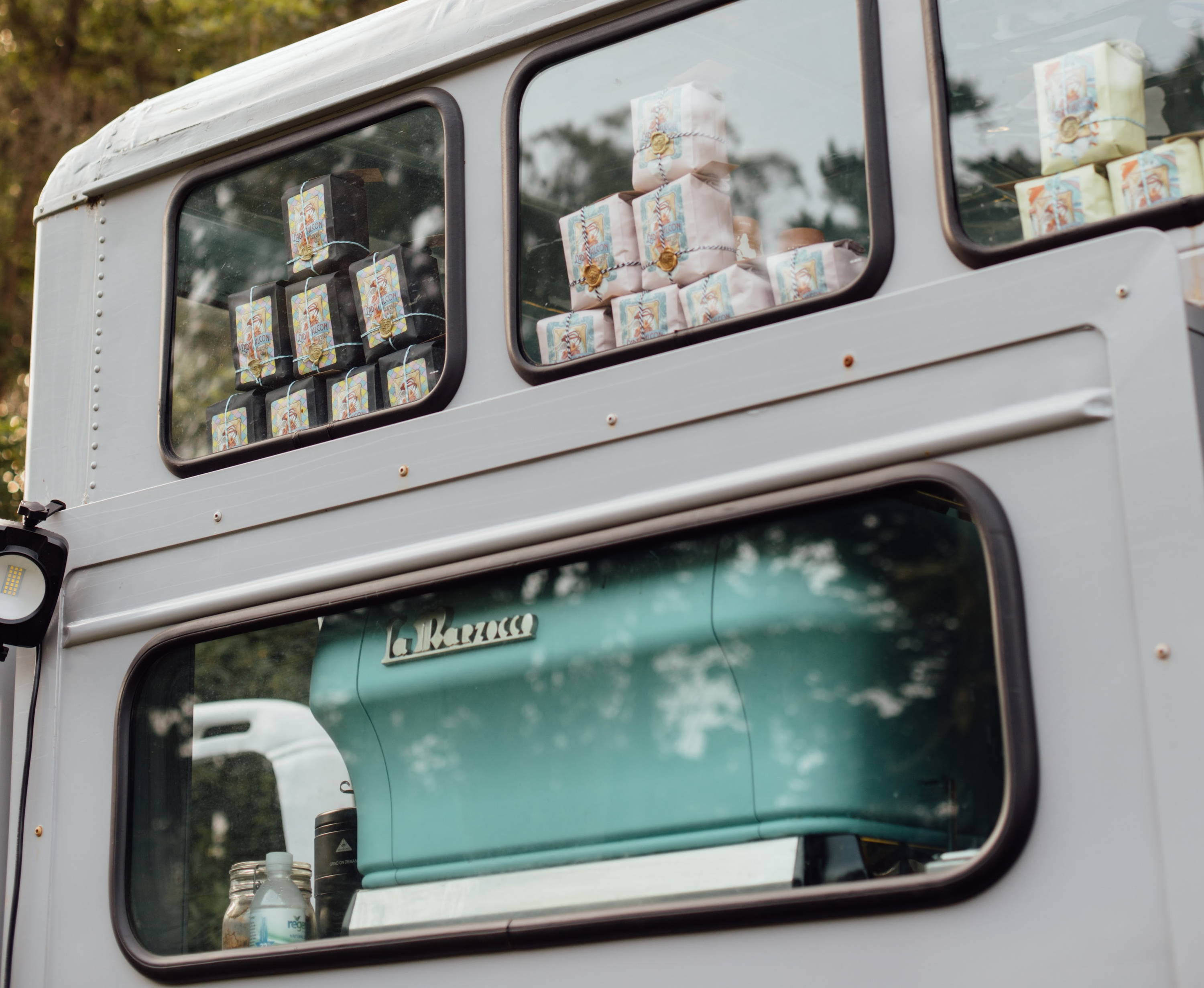 Buy a bag of Lady Falcon coffee beans at our vintage truck in Alamo Square and get a FREE drink of your choice from the truck, on us! Come hang out with us in the park on the weekend & then take us home to make your whole week start with some sass.